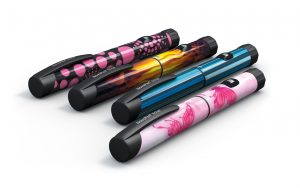 Pharmaceutical company Novo Nordisk has voluntarily recalled certain insulin cartridge holders used in NovoPen Echo products. Novo Nordisk determined that the affected holders may become damaged or break if exposed to certain chemicals, including cleaning products. Damage to the holder may result in the NovoPen Echo not delivering enough insulin to the user, which could potentially lead to high blood sugar.
Warning signs of high blood sugar (or hyperglycemia) typically appear over time and can include: flushed, dry skin; feeling sleepy or tired; dry mouth, breath taking on a fruity scent; urinating more often, feeling thirsty; loss of appetite, feeling or being sick. Novo Nordisk is advising users with an affected device to check their blood sugar levels more frequently until they receive a replacement holder.
The affected batches of holders were sent to various distributors, sales representatives, and replacement programs for nationwide distribution between August 1, 2016 and June 22, 2017.