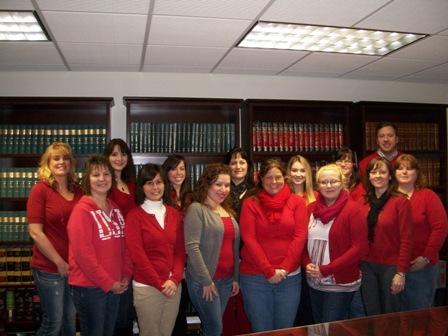 On Fri., Feb. 1, the attorneys and staff of O'Connor Law donned red sweaters, shirts, and scarves in honor of National Wear Red Day to raise awareness of heart disease, the leading killer of women.
National Wear Red Day was started 10 years ago by the American Heart Association (AHA), as part of its annual Go Red for Women campaign. The AHA offers some startling statistics about women and heart disease:
One woman dies from heart disease each minute.
Female deaths from heart disease have exceeded the death toll for men since 1984.
Once in 31 women will die from breast cancer, while one in every three women will lose their life to heart disease.
Nine out of 10 women have one or more risk factors for heart disease.
Some healthy changes that women can make to reduce their chances of developing heart disease include losing excess pounds, exercising more, and talking to your family physician to develop a "heart health plan."
This year, we encourage all of our friends, family members, and clients, both men and women, to adopt a health plan that will benefit your heart. It's never too late to start!