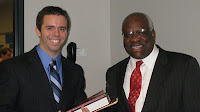 On Nov. 15, Grove City College in Grove City, PA hosted a conversation with Hon. Clarence Thomas, associate justice, United States Supreme Court, and Hon. Alice Batchelder, chief judge, United States Court of Appeals for the Sixth Circuit at the 2011-2012 J. Howard Pew Memorial Lecture in Crawford Auditorium of Crawford Hall.
Prior to the lecture, Thomas spoke with students of a legal studies course entitled "The Founders' Constitution." Max Matherne, a 2011 summer intern with O'Connor Law, was selected in advance to lead the class in composing a list of questions for Justice Thomas about judicial philosophy, including the role of stare decisis in Thomas's jurisprudence, the difficulty of ascertaining original intent, and Thomas's views on affirmative action and the politics of race.
After class, Matherne had an opportunity to meet and have his picture taken with Thomas. Matherne is a History major at Grove City College. He is in his senior year. He will be attending law school in the fall of 2012.