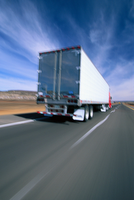 A Muhlenberg Township woman was killed on Friday afternoon when her vehicle was struck from behind by a tractor-trailer.
The accident occurred Friday afternoon in the southbound lanes of Broadcasting Road in Berks County.
According to an article in the Reading Eagle, Spring Township police said an investigation is continuing into the cause of the four-vehicle crash, with the assistance of the county district attorney's crash reconstruction unit.
A preliminary account by police reported that the tractor-trailer collided with the back of the vehicle driven by the Muhlenberg Township woman. Both vehicles caught fire and slid out of control, striking two other vehicles. The driver of the tractor-trailer was treated for injuries. The driver of one of the other vehicles and her four passengers, including her 4 children all under the age of 10, were taken to area hospitals.
We were sorry to read about this tragic accident and hope that all who were injured, including the 3 young children, recover quickly. It will be interesting to see the results of the investigation, since the impact caused two vehicles to catch on fire, and causing damage and injuries to 2 additional vehicles and their occupants. If you've been involved in an accident with a tractor-trailer, you may be eligible for compensation. Contact the truck accident attorneys at O'Connor Law for a free review of your case.