On Friday, Jan. 6, attorneys and staff members from O'Connor Law extended their holiday spirit by celebrating Three Kings Day at the Casa de la Amistad Senior Center in Reading.
Celebrating the Three Wise Men, also known as Los Tres Reyes Magos, is an important tradition in Latin America and varies from country to country. For Latinos, it is the Three Wise Men, not Santa Claus, who bring presents at Christmas.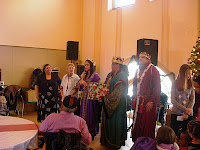 Attorney Valeen Hykes read a story about the Three Kings to the children from the YMCA daycare center. Attorney David Miller and paralegals Gladys Martinez and Ana Teresa López from the O'Connor law offices in Reading dressed as kings and gave out presents to the children. During this time, Magdalena Costea from the Daniel Torres Hispanic Center kept everyone involved and entertained with singing and dancing.
Ana Teresa and Gladys presented the Senior Center with a brand new bingo set, to replace their old, worn set. In addition, 3 new domino sets were raffled off to 3 lucky seniors.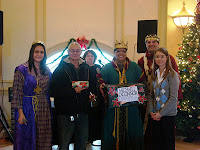 After the festivities, everyone enjoyed a traditional lunch of sancocho, a Latin stew, as well as more music from Magdalena. Some of the seniors joined in as her backup vocalists and dancers.